EXCLUSIVE KITESURFING TRIP TO KLEIN CURACAO
00107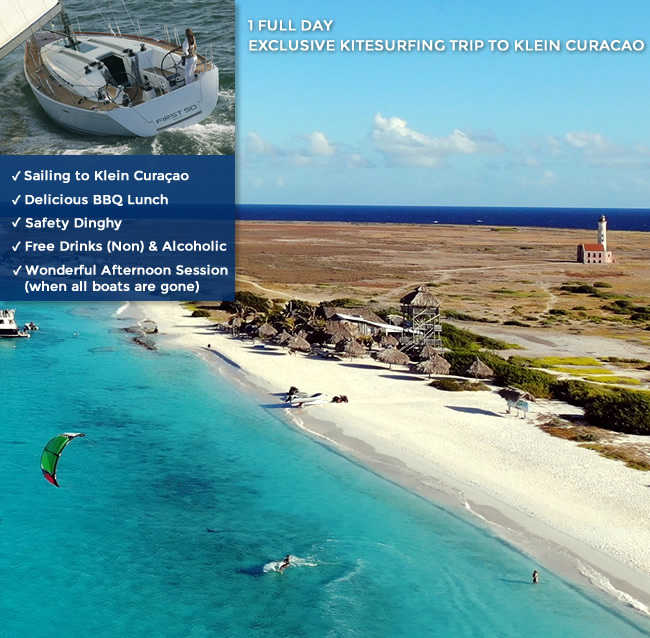 UNFORGETTABLE KITESURFING TRIP TO KLEIN CURACAO

We will sail in the morning to Klein Curacao with the First 50 Sailing Yacht. Designed as a performance sailing boat she will make the trip quick and comfortable in about 1.5 hours starting in the Spanish Waters.

Around 10 AM you can start your first kitesurfing session on the clear blue water.
We'll stay till sundown so you will experience the 'great' sunset session.

KITESURFING GEAR
Bring your own gear for free!
If you are experienced kitersurfers and you didn't bring your own gear, you can rent complete kitesurfing sets for €150,-/set. Set rentals start with a minimum of 2 sets and you have to be able to ride upwind consistently.

SUNSET SESSION
Around 4 PM the wind usually turns a little more north and becomes really steady and perpendicular to the coastline.
Most if not all all boats will be gone by then and you'll have all water for yourselves.
INCLUSIVE
All food and beverages (alcoholic and non-alcoholic) are included and captain Ed will serve you a delicious BBQ lunch.

SAFETY
As it is an off-shore wind site we have a dinghy for safety at your disposal and we'll keep an eye on you during your sessions.The first rescue is for free. If you need more you will be charged €10,- per rescue.
You'll be back on Curacao in the early evening.
See you at Klein!
How many Adults (€175,- PP)
How many Children <12 (€125,- PP)
Kitesurf Sets Rental incl. Supervision
Kitesurfing Lessons (2 Students Max)